Live At Télérama (Released 2021)
Digital Release - Arka Sound
"Live at Télérama" captures a full Suns of Arqa show live at the Télérama Dub Festival, recorded in Paris on 16th May 2006.  Sit back and enjoy as Suns of Arqa treat the Paris audience to performances of "Dépaysement", "Forever Far-I", "Judgement Day", "Michel-ki-Malhar" and many more.
Guest vocalists Gimesh Guay and MC Stix Dan join the stage with Wadada on sitar, Shyamal Maitra on tabla, Thierry Negro on bass, DJ Guapo on guitar and Frank Celeste on drums.
Digital Release - Arka Sound
"Kuba Mixes" is a collection of Suns of Arqa performances recorded at Space Mountain in Spain, with additional production and remix by Kuba, who weaves his magic around Suns of Arqa live favourites Once Long Ago, Prayer For Messiah and Pablo's Lament, creating a half hour journey of magic.
Remixed by Kuba, Produced by Michael Wadada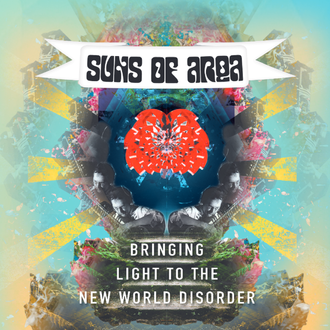 Bringing Light to the New World Disorder (2020)
4xCD Limited Edition Digipak - Digital Reprints
Suns of Arqa 'Bringing Light to the New World Disorder' is a Limited edition, Hand-numbered, box set containing over 5 hours of previously unreleased and rare Suns of Arqa recordings.

Compiled by Brian Hyphen and Michael Wadada, this collection features studio outtakes and live recordings from 1979 to 2019, recorded in a wide variety of locations, running through Suns of Arqa's long and illustrious career.  It is a strictly limited edition CD set, limited to 100 copies.
| Title | Format | Track | Label | Year |
| --- | --- | --- | --- | --- |
| Dub Trees: Nature never did betray the heart that loved her | CD, Album | Butterfly Trilogy | Liquid Sound Design | 2000 |
| Dr Alex Paterson's Voyage Into Paradise | CD | Albatross | Liquid Sound Design | 2001 |
| Kumba Mela Experiment: East Of The River Ganges | CD, Album | Be Conscious (On Namai And Shiveye Mix) | Liquid Sound Design | 2001 |
| Stoned Asia 4 | CD | Elephant Trax (Hammer to the Nail Dub) | Stoned Asia | 2002 |
| Nirvana Lounge 03 | 2xCD | Elephant Trax | Wagram | 2003 |
Title
Format
Track
Label
Year
Wild Paarty Sounds Volume One
LP
Asian Rebel
Cherry Red
1981
Indipop Music & Dance Compilasian
LP
Stepping To The Music
Indipop
1983
A From Antler
LP
Acid Tabla
Antler Records
1984
Alternative Funk Vol I
Cassette
Brujo Magic
Vox Man Records
1985
Touch-Lands End
Cassette
Sanskrit Hymn
Touch
1985
Bugs On The Wire
LP
Brujo Magic
Leghorn Records
1987
Wild Paarty Sounds - Volume One
LP
Asian Rebel
Trance Records
1988
Freak Beats - Volume 1
LP, CD
Govinda's House
Scam, Bop Cassettes
1989
The History Of Indipop - The First Ten Years - 1981-1991
CD
Steppin to the Music, Ananta Snake Dance
Great Expectations
1991
Give Peace A Dance 2 - The Ambient Collection
LP
Kalavati Alap
Beechwood Music
1991
Give Peace A Dance 2 - The Ambient Collection
CD
Kalavati Alap, Kalavati Remixes
Beechwood Music
1991
Give Peace A Dance 2 - The Ambient Collection
12" W/Lbl Promo Sampler
Kalavati Remixes
Beechwood Music
1991
Wild Paarty Sounds (Volume One)
CD
Asian Rebel
Cherry Red
1991
Mixmag Live! Vol. 9 - Dr Alex Paterson & Mixmaster Morris
Cassette
World Peace A.D?
DMC Publishing
1993
The Radio 1FM Sessions Vol 1
Cassette
Les Anciens Mystiques
Vox Magazine
1994
Ambient Amazon
CD, 2LP
Heart Of The Suns
Tumi Music
1995
New Wave Club Class•X 4
CD
Acid Tabla
Antler-Subway
1995
Off The Map
CD
Ananta Snake Dance
Charrm
1995
98 New Wave Club Class•X Traxx!!!
7CD Box
Acid Tabla
Play It Again Sam
1996
Cyber Mix - Ambient
CD + CD-ROM
Durga Dub (Remix)
Javelin Ltd
1996
Dubitamin - 6 Rare Dub Ingredients
LP (Limited)
Tabla School (Zombie Mix)
Roundtrip Records
1996
In Dub Daze: An On-U Sound Compilation
CD
Asian Rebel
Cleopatra
1996
King Size Dub Vol. 2
CD
Jagnath Bhairavi
Echo Beach
1996
Mixmag Live! Vol. 9
CD
World Peace A.D?
DMC Publishing
1996
The Future Sound Of Ambient 2
CD
Beyond The Beyond
Brand New Entertainment
1996
Asian Underground
CD
Basant Dhrupad
PolyGram TV
1997
Overdubbed By Reverend E.C.H.O.
CD
Govinda's Dream (Sounds From The Ground Mix)
Echo Beach
1997
Orient Express
CD
Govinda's Dream
Phonokol
1998
Andes To The Amazon
CD
Heart Of The Suns
Echo Beach
1999
On-U Sound Box
3CD
Asian Rebel
Cleopatra
1999
DJ Pica Pica Pica: Planetary Natural Love Gas Webbin' 199999
CD
Sul-E-Stomp (Ceilidh Mix)
Comma (Japan)
1999
Wylęgarnia Dub'u
Promo CD Sampler
City Of Nine Gates (Zion Train Mix)
Brum, Universal Egg
1999
The Future Sound Of Ambient Vol I & II
2CD
Beyond The Beyond
Brand New Entertainment
2000
The Warp Experience
2CD
Khamaj (The Caveman Remix)
Liquid Sound Design
2000
Vampira Festival 2000
CD
Through The Gate We Go
SPV Poland / Big Blue
2000
17-Track Guide To The Month's Best Music
CD
Tomorrow Never Knows
Uncut Magazine
2001
Infinessence
CD
Raga Misra Bilawal (Zion Train Extended Mix)
Interchill Records
2001
Tribal Futures: The Way Ahead...
CD
Children Of Jumma (The Orb Mix)
Echo Beach
2001
Spiritual Worlds
2CD
Govinda's House (Sounds From The Ground Mix)
Yellow Sunshine Explosion
2002
Talisman
CD
Ark Of The Arqans
Interchill Records
2003
Interdigital Vol. 1
MP3 320
Ark Of The Arqans
Interchill Records
2004
Sanctuary - Spectrum Series Vol. 1
CD
Cradle Part III
Interchill Records
2005
The Best Of Dub
CD
Rosin + Reed (Zion Train Mix), Acid Tabla (Adrian Sherwood Mix)
Big Blue Records, Blue Moon Productions
2006
New World Dub 02
CD
Cosmic Jugalbandi
System Recordings
2006
Pure - Music From The Film
CD
Cosmic Jugalbandi (DJ Guapo Remix)
Finite Records
2006
Indigenous S.O.S. Benefit Project
3CD
Based On Raga Bahiravi (Zion Train Remix)
Random Records
2010
On-U Sound Presents Lee Scratch Perry
CD Promo
Devil Dead Out (Adrian Sherwood Remix)
On-U Sound
2011
Dakini Mother Tongue
CD
Sadrayama (Tripswitch Mix)
Liquid Sound Design
2015
Society Of Inner Light
CD
The Truth Lies Therein (Youth Navigator Dub Mix)
Liquid Sound Design
2016